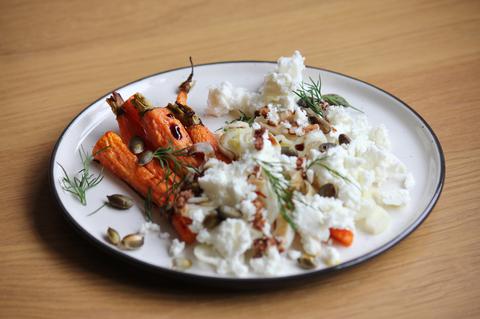 Carrot, fennel and feta salad
Makes 2 portions
---
Ingredients
Baby carrots, 5-6
Fennel bulb, 1 small
Feta cheese, 50 g
Pumpkin seeds, 1 tbsp
Dill, 2 sprigs
Olive oil, 1 tbsp
Honey, 1 tsp
Balsamic vinegar
Salt, pepper
---
Instructions
Preheat the oven to 180*. Cut the carrots in halves and marinade them in the oil, honey, salt and pepper for 10-15 minutes.
Put the carrots cutside down on the baking paper and bake them for 20-25 minutes.
Meanwhile slice thinly the fennel and put it in the iced water to make it crisp for 10-15 minutes. Then dry it.
Toast the pumpkin seeds.
To assebmle the salad, put the carrots first, then fennel, crumble the feta cheese on top, sprinkle with pumpkin seeds, decorate with dill and droplets of vinegar.
Although this salad doesn't look summerish, give it a try, it is really delicious.