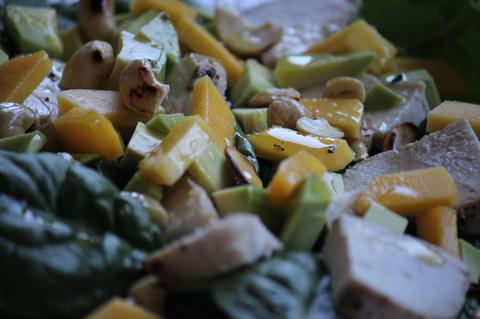 Here the most important factor is the ripeness of mango and avocado, they make this dish creamy and juicy.
Chicken, mango, cashew salad
Makes 2 portions
---
Ingredients
Chicken breast fillet, 1
Mango, 1
Avocado, 1
Spinach, 2 handfuls
Cashew, 2 tbsp
Dressing
Lemon juice, 2 tsp
Runny honey, 2 tsp
Extra virgin olive oil, 3 tbsp
Salt, pepper
---
Instructions
To make the dressing mix all the ingredients together in a small bowl.
Bake the chicken breast for 25 minutes at 180°C in foil. Cool and cut in bite-size cubes.
Panfry cashew nuts on a dry skillet.
Put spinach on plates, place mango cut in wedges and avocado cubes on top, then chicken.
Drizzle with dressing and sprinkle with cashew nuts.