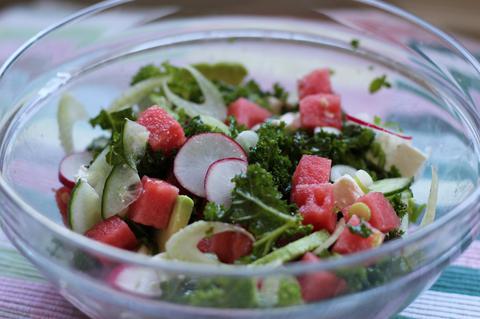 This salad is summer itself. It's fresh, juicy and easy to make. The recipe below yields 2-3 portions.
Watermelon and feta salad
---
Ingredients:
Curly kale, 1/2 bag or 100 g
Extra virgin olive oil, 2 tbsp
Lemon juice, 1 tsp
Vinegar of your choice, 1 tsp
Fennel, 1/2 bulb
Cucumber, 1/4
Radishes, 4
Spring onion, 2 sprigs
Avocado, 1/2
Watermelon, 2 cups
Feta cheese, 100g
Salt, pepper
---
Instructions:
Wash the kale and remove the stems. Pour the oil, vinegar and lemon juice over, add salt and pepper. Mix it with your hands until it's all covered with liquids and soft.
Slice thinly fennel, cucumber, radishes. Chop the spring onion, cut the avocado and watermelon into cubes. Crumble the feta cheese.
Put everything together and toss.
I found this recipe on love & lemons, this blog is one of my favourite ones. I have some preferable food blogs and books which I will tell you about later.
Enjoy your meal and summer sun!