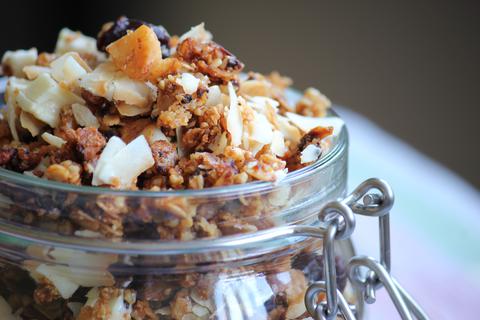 But it will take you some time.
For me the best food for breakfast is either eggs or granola. Today I'll talk about the last.
Basically, granola is baked rolled oats with some fat and honey, then you add anything you like: cereal, nuts, seeds, dry fruit. So far I find this recipe the best.
Granola with cherries, macadamia nuts and white chocolate
---
Ingredients:
Rolled oats, 100 g
Oat flour, 120 g
Rice puffs, 30 g
Big coconut flakes, 50 g
Bee pollen, 20 g
Macadamia nuts, 70
Salt, 1/2 tsp
Sugar, 50g
Coconut oil, 75 g
Honey, 85 g
Egg white, 1
Dried cherries, 70 g
White chocolate, 1 bar (100g)
---
Instructions:
Preheat the oven to 150°C, line a sheet tray with paper or baking mat.
Combine rolled oats, oat flour, rice puffs, bee pollen, roughly chopped macadamia nuts, salt and sugar in a big mixing bowl.
Separately mix melted (but not hot!) coconut oil, honey and egg white. Egg white should be at room temperature, if straight from the fridge it could harden the coconut oil.
Then pour wet ingredients over the dry ingredients and mix it thoroughly until dry ingredients are coated with liquids.
Put the granola onto the lined tray in one layer and bake about 20 minutes, the edges will turn the golden brown colour. Take the tray out and flip the granola over. Be careful - the tray and granola are very hot! Then bake another 20-25 minutes. Check the colour, you don't want it deep brown (unless you as myself like everything burnt :)). You may find easier to stir the granola every 10 minutes, for more uniform colour.
When it's ready cool it down outside the oven, then break it in pieces to your liking.
Mix in white chocolate chunks and cherries.
Keep it in an airtight container.
Eat with whatever milk you prefer or yogurt, or even with juice, topped up with season berries. The perfect start of the day!
Notes: feel free to use brown sugar or demerara, it will give more caramel flavour. If you use roasted coconut flakes, put them at the end. Also you can substitute coconut oil with vegetable oil, but coconut one is more fragrant. Just remember the rule #1 - use only high quality ingredients! It is not necessarily the most expensive ones.