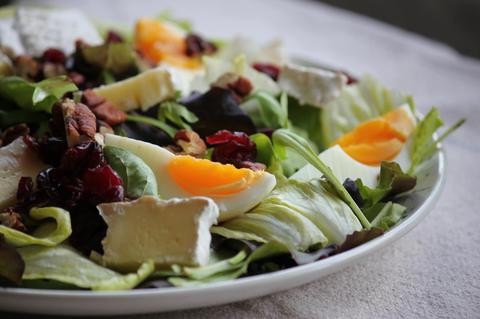 I really think salad is the best part of the dinner. If we speak about the savoury part of it)) So here I have another one to share with you.
Salad with apple, pecans and camembert
Makes 2 portions
---
Ingredients
Mix leaf salad, 1 bag - 100 g
Apple, 1
Egg, 2
Camembert, 75 g
Dried cranberries, 40 g
Pecan nuts, 50 g
Dressing
Greek yogurt, 4 tbsp
Dijon mustard, 1 tsp
Poppy seeds, 1 tsp
Vinegar of your choice, 1/2 tsp
Garlic powder, 1/2 tsp
Salt, pepper
---
Instructions
Mix all the ingredients for dressing and put aside.
Hard boil eggs, cut them in four.
Slightly toast pecans on the stove and chop them.
Cut the apple in 1-2 cm cubes.
Put salad leaves on a portion plate, top up with eggs, apple, camembert cut in chunks, scatter cranberries and nuts, drizzle with dressing.
Enjoy!
It's a very simple salad, just put everything on a plate, yet it is quite flavourful and tasty.