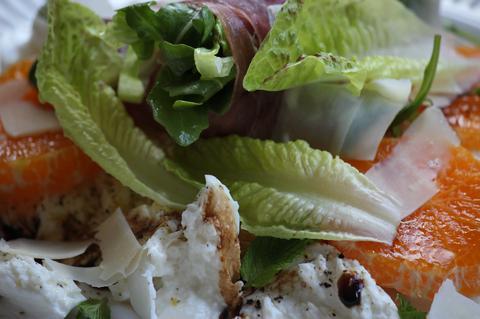 Clementine, prosciutto, mozzarella salad
Makes 2 portions
---
Ingredients
Mozzarella, 2 balls
Lemon zest, of 1 lemon
Clementines, 2
Rocket, 1 handful
Lettuce, inner leaves
Mint, 1/2 handful
Prosciutto, 2 rashers
Parmesan
Balsamic vinegar
Dressing
Extra virgin olive oil. 2 tbsp
Lemon juice, 1 tbsp
Salt, pepper
---
Instructions
Roughly tear mozzarella and place it on plates, season with salt and pepper and sprinkle with lemon zest.
Cut clementines in rounds and put on top of mozzarella.
To make the dressing mix olive oil and lemon juice, add some sea salt and freshly ground black pepper to your liking.
In a separate bowl mix together lettuce leaves, mint leaves, rocket salad with dressing.
Put prosciutto rashers on a board and roll with half of dressed greens in each.
Place the rolls on top of mozzarella and clementines, sprinkle with grated parmesan.
Scatter some mint leaves on top and drizzle with vinegar.