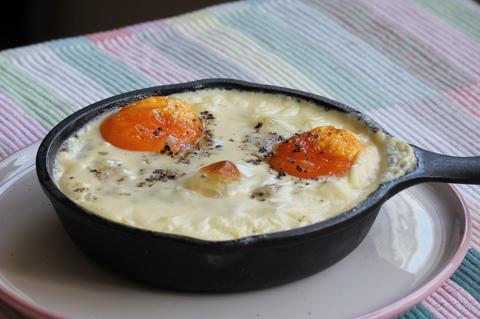 And today here is my another best-best breakfast! Eggs! Not fried, nor boiled. Baked! You need just a tiny preparation, all the rest your oven will do for you!
Baked eggs with leek
---
Ingredients:
Eggs, 2-4
Leek, 1-2
Butter, 2 tbsp
Gruyère, 30 g
Double Cream, 2 tbsp
Salt, pepper
---
Instructions:
The quantity of eggs depends on the dish you use to bake your eggs in. If you use ramekin, put one egg per portion. If you use small caster iron skillet, crack 2 eggs per dish. Don't forget to well butter your skillet.
Preheat the oven to 200°C.
Wash and pat dry leeks, trim and slice. You may need to wash it again if you see any dirt in between the leaves, you can wash it already cut in a colander, just don't forget to dry it before cooking. You need 1 big or 2 small leeks for 2 portions. Melt about 1 tbsp (10-15 g) of butter in a frying pan, add leek and fry it stirring from time to time until it's tender and slightly wilted.
Butter your caster iron dishes. There is no need to butter ceramic ramekins. Put a good layer of leek, add some grated cheese, crack one or two eggs, add salt and pepper and pour the cream in a way that everything but yolk is covered.
Bake about 6-8 minutes, yolk should be slightly runny.
Notes. You can choose whichever hard cheese you like the most: Cheddar, Gruyère, Manchego, Parmesan or even blue cheese to add more flavours. I would not recommend white cheese as they are too creamy, or semi-soft ones as they will totally lose their identity here.