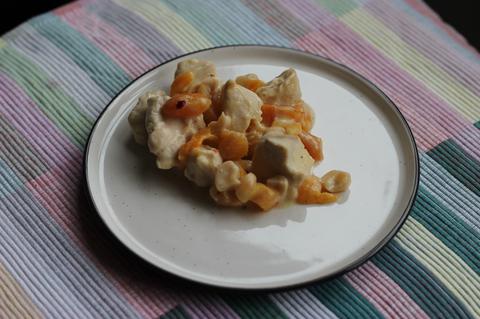 Since recently I like my vegetables in desserts and fruit in a savoury dish 🙂 Today I offer you to prepare chicken breast braised with dried apricots. It turns very tender and creamy.
Cashew and dried apricots chicken
The recipe makes 4-6 portions
---
Ingredients:
Chicken breast fillet, 500 g
Extra virgin olive oil, 30-40 g
Dried apricots, 100 g
Cashew nuts, 20 g
Crème fraîche, 200 g
Water, 50 g
Curry powder, 1 tsp
Salt, pepper
Honey, 30 g
---
Instructions:
Cut apricots in strips, roughly chop cashew nuts. Cut chicken in about 3 cm pieces.
Heat the olive oil in a frying pan and fry the chicken pieces until slightly golden colour. Fry it in one layer, you may need to do it in several batches, so prepare a container for already fried chicken to wait the rest.
Return everything into the frying pan, add nuts and apricots, water and crème fraîche. Don't forget to season with salt and pepper to your taste and add a teaspoon of curry or just ginger powder.
Bring it to simmer, top the pan with a lid, lower the heat and cook it about 20-25 minutes. Chicken is cooked when it's soft and when you cut it you don't see any pink parts.
When it's cooked, add honey just before serving and stir everything well.
Enjoy it hot.