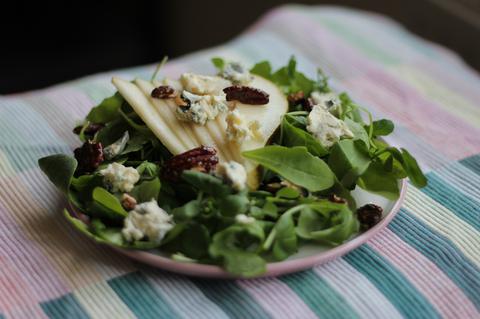 Another all year round salad, another fruit in a savoury dish. This is just perfect combination of all the ingredients, everything is in their place here.
Blue cheese and pear salad
Makes 2 portions
---
Ingredients:
Extra virgin olive oil, 25 g
Dijon mustard, 5 g
Balsamic vinegar, 5 g
Honey, 5 g
Lemon juice, 5 g
Salt, pepper
Pecan nuts, 75 g
Brown sugar, preferably Muscovado, 15 g
Cayenne pepper, pinch
Pear, firm, 1
Blue cheese, 75 g
Mixed leaf salad, 1 bag
Rocket salad, handful
---
Instructions:
Make the dressing with olive oil, mustard, vinegar, honey, lemon juice, salt and pepper. Mix it well and put aside.
Slightly toast the nuts in the preheated to 150°C oven. 10 minutes should be enough.
Leave the nuts in the switched off oven, you need them warm. Meanwhile melt the sugar in the thick bottomed pan or skillet on medium fire. Be careful - the dark brown sugar burns very easily.
When the sugar is melted, take it off the fire, add a pinch of cayenne pepper and nuts, stir well with a wooden spoon and quickly tip them onto the baking paper or silicone mat in one layer.
Cut the pear in half, core it and slice it.
Now you are ready to build your salad in individual plates - put the salad leaves and rocket, place the sliced pear in the center, crumble the cheese on top and sprinkle with the nuts.
Pour the dressing over just before serving.
This salad is so good that it's never enough 😅