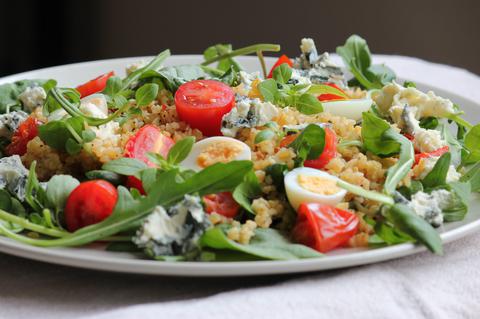 Very nutritious and colourful salad, it will brighten every plate!
Bulgur wheat and quail eggs salad
Makes 2 portions
---
Ingredients:
Bulgur wheat, 70 g
Quail eggs, 6
Cherry tomatoes, 8
Blue cheese, 75 g
Baby spinach or rocket salad, 1 handful
Salt, pepper
Extra virgin oil
---
Instructions:
Cook 70 grams of bulgur wheat according to package directions. I like to season the water to make the salad more interesting, I put salt, freshly ground pepper, chilli flakes and a pinch of dried basil. You can choose any seasoning to your taste. Cool it slightly down.
Hard boil quail eggs, 4-5 minutes should be more than enough.
Half tomatoes, you can use them fresh or cook in the microwave about 1 minute on medium power.
Build the salad in individual plates - place half of the bulgur in each plate, put half a handful of salad leaves, place halved quail eggs and tomatoes. Crumble blue cheese on top and drizzle with olive oil.
Grind some sea salt and black pepper on top.